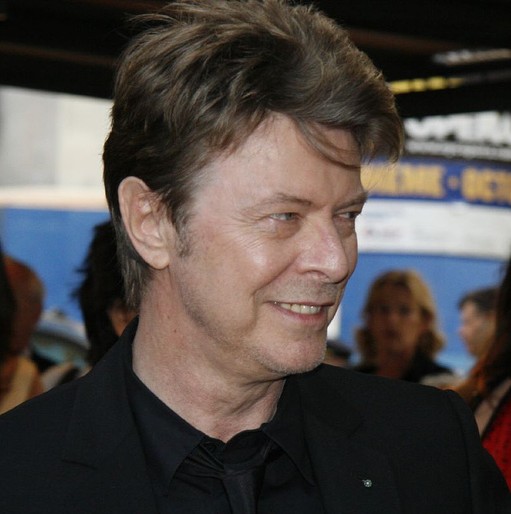 David Bowie (8. January 1947 – 10. January 2016) was an English singer, songwriter, multi-instrumentalist, record producer, painter, and actor. He was a figure in popular music for over five decades, and was considered by critics and musicians as an innovator, particularly for his work in the 1970s. His career was marked by reinvention and visual presentation, and his music and stagecraft significantly impacted popular music. During his lifetime, he sold an estimated 140 million records worldwide. In the UK, he was awarded nine platinum album certifications, eleven gold and eight silver, and in the US received five platinum and seven gold certifications. He was inducted into the Rock and Roll Hall of Fame in 1996

An Oldies Tribute
The first moon landing in 1969 inspired many artists. One of the first to take up this theme was David Bowie, whose hit "Space Oddity" warned of the dangers of this kind of travel, with Major Tom drifting into outer space, obviously out of control, a horror scene that has thankfully not come to pass.
My first encounter with David was through the single "Starman" which tells of an alien Spaceman waiting for the inhabitants of earth to develop to such a level, that he could visit us without blowing our minds. And then my brother bought "The Rise and Fall of Ziggy Stardust and the Spiders from Mars", a wonderful album that influenced me and a whole generation of music. Bowie's flamboyant look was something new and exciting and certainly very adventurous, his texts were thought evoking and provocative.
One of my personal faves from the album, and one whose text shows us how far we have come in the 40 plus years since its release, is Lady Stardust
People stared at the makeup on his face
Laughed at his long black hair, his animal grace
England was, at this time, still struggling with the notion of homosexuality, and here was this chap, full of glitter, make up and brash colored clothing that accentuated his slight figure, singing such songs.
I smiled sadly for a love I could not obey
My Bowie was very much a figure of the 70s, when I was a youth. After Diamond Dogs I more or less lost him, as he went on to other project in genres that didn't interest me. But there is absolutely no doubt, that David was a visionary and a pioneer of rock music, and he did his thing, from beginning to end. He will be sadly missed.
David's Top Songs
On the Facebook page of My Music Movement we asked readers to name their favorite songs by David Bowie. Not an easy task, as was noted by Bill, who said:
"I could never pick a favorite Bowie tune…this is worse than the Beach Boys category…just surprised no one put up "Cracked Actor" or "Panic in Detroit"…The man was truly a rock n roll genius…so many more not on the list…just impossible for me…The Man Who Sold The World…Man! Somebody stop me! Aaaaargh! lol!"
Nevertheless we did get results.
Image: By Arthur from Westchester County north of NYC, USA, at Arthur@NYCArthur.com (Cropped from the original, David Bowie) [CC BY-SA 2.0], via Wikimedia Commons
"Iman and David Bowie at the premiere of Moon" by David Shankbone – David Shankbone. Licensed under CC BY 3.0 via Wikimedia Commons.
THIRD PLACE
Rebel, Rebel
Click on Next to listen to the Runner Up.
Hits: 1