Today's artist's first songs were recorded by the Nitty Gritty Dirt Band, Tom Rush, Nico, Steve Noonan, Gregg Allman, Joan Baez, the Eagles, Linda Ronstadt, the Byrds, and others. He did not release his own version of many of these early songs until years later. Soon after this, Rolling Stone mentioned him as a "new face to look for" and praised his "mind-boggling melodies".
With the dreams of flesh and love dancing in my mind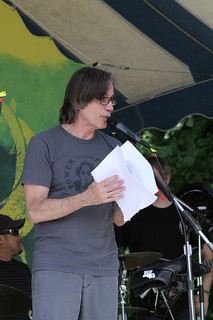 In 2002, he received the John Steinbeck Award, given to artists who exemplify the environmental and social values that Steinbeck believed in.
On March 14, 2004, he was inducted into the Rock and Roll Hall of Fame by Bruce Springsteen and on June 7, 2007, he was inducted into the Songwriters Hall of Fame.
In 2004, he was named an honorary Doctorate of Music by Occidental College in Los Angeles, for "a remarkable musical career that has successfully combined an intensely personal artistry with a broader vision of social justice." For "promoting peace and justice through his music and his unrelenting support for that which promotes nonviolent solutions to problems both nationally and internationally", He received the Courage of Conscience Awards from The Peace Abbey in Sherborn, Massachusetts.

Jackson Browne – Disco Apocalypse was presented on October 24th 2014
photo credit (homepage): Fire Monkey Fish via photopin cc
photo credit: Jim, the Photographer via photopin cc
Hits: 6