Today's artists were a traditional American folk music group that recorded between 1927 and 1956. Their music had a profound impact on bluegrass, country, Southern Gospel, pop, and rock musicians, as well as on the U.S. Folk Revival of the 1960s. They were the first vocal group to become country music stars.
Today's song has been an "ear worm" all week, so I'm sharing it – an old-fashioned song perfect for a Sunday afternoon…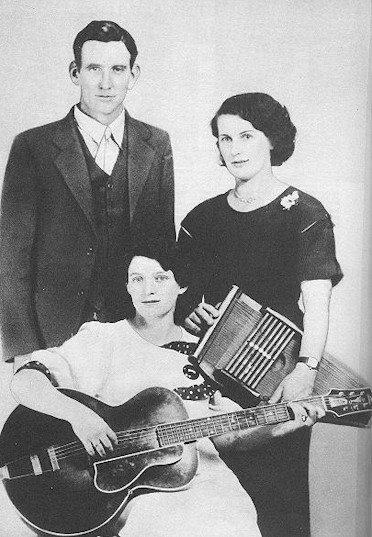 They made their first recordings on August 1, 1927, making the journey from Maces Spring, Virginia, to Bristol, Virginia, to audition for record producer Ralph Peer. Peer was seeking new talents for the relatively embryonic recording industry. The initial sessions are part of what's now called the Bristol Sessions. The band received $50 for each song recorded, plus half a cent royalty on every copy sold of each song for which they had registered a copyright. On 4 November 1927, the Victor Talking Machine Company released a double-sided 78 rpm record of the group performing "Wandering Boy" and "Poor Orphan Child". On 2 December 1928, Victor released "The Storms Are on the Ocean" / "Single Girl, Married Girl", which became very popular. By the end of 1930 they had sold 300,000 records in the United States.
They were elected to the Country Music Hall of Fame in 1970 and were given the nickname "The First Family of Country Music". In 1988, they were inducted into the Grammy Hall of Fame and received its Award for the song "Will the Circle Be Unbroken". In 2001, the group was inducted into the International Bluegrass Music Hall of Honor. In 2005, the group received the Grammy Lifetime Achievement Award.
And Your Mystery Lyrics were:
Oh I'll dance, I will sing and my laugh shall be gay…
photo credit (Homepage): LazyLibrarian via photopin cc
Rate this Mystery Lyrics
Summary
The Carter Family – Wildwood Flower was presented on October 12th 2014.
Please rate the music, not the presentation. No registration needed, just a simple click on the number of stars you wish to give. Disagree with my review or rating? Then please scroll down to the comments section, where you can add your review and your rating together.
Comments Rating
( reviews)
Hits: 2