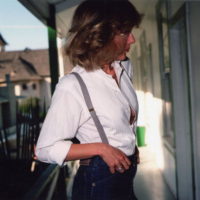 Artist # 1(born March 3, 1947) is an American singer, songwriter, arranger, and record producer. She is known for her interpretations of compositions written by herself and many others as well as an extensive playlist as a vocalist on movie soundtracks. She is a close friend of and collaborator with Canadian singer-songwriter and poet Leonard Cohen. In addition to the Best Song Oscar for today's song, she also sang two other Best Song Oscars:"I've Had The Time Of My Life" with Bill Medley (Dirty Dancing) and "It Goes Like It Goes"(Norma Rae)
Artist # 2(born 20 May 1944) is an English rock and blues singer, who came to popularity in the 1960s, and is known for his gritty voice, his spasmodic body movement in performance and his cover versions of popular songs, particularly those of The Beatles.
His cover of The Beatles' "With a Little Help from My Friends" reached number one in the UK in 1968, and he performed the song live at Woodstock in 1969. His 1975 hit single, "You Are So Beautiful", reached number five in the US.
Your Mystery Lyric was:
Some hang on to "used to be"
Live their lives, looking behind
All we have is here and now
All our life, out there to find
Joe Cocker: photo credit: Amon_Re via photopin cc
Jennifer Warnes: By David Alexander (Jennifer Warnes) [CC-BY-SA-3.0], via Wikimedia Commons
Rate this Mystery Lyrics
Summary
Joe Cocker and Jennifer Warnes – Up Where We Belong was presented by Hil on August 19th 2014.
Please rate the music, not the presentation. No registration needed, just a simple click on the number of stars you wish to give.
Hits: 2