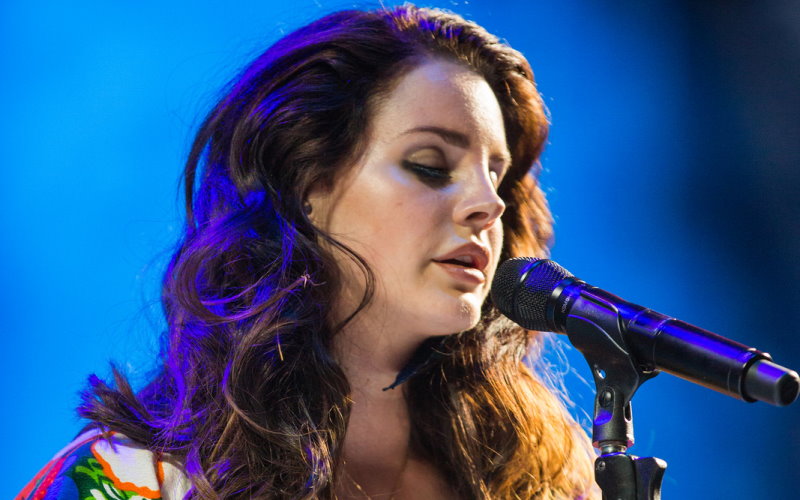 Elizabeth Woolridge Grant (born June 21, 1986), known by her stage name Lana Del Rey, is an American singer-songwriter. Del Rey started songwriting at the age of 18 and signed her first recording contract with 5 Points Records in 2007, releasing her first digital album Lana Del Ray in January 2010. Del Rey bought herself out of the contract with 5 Points Records in April 2010. She signed a joint contract with Interscope, Polydor, and Stranger Records in July 2011.
After she released her debut single "Video Games" in June 2011, a music video created by Del Rey for the song was posted on YouTube in August 2011. Her second album, Born to Die, was released in January 2012. The album has sold over 5 million copies worldwide to date, and was the fifth best-selling album of 2012. Charting across Europe, this album spawned numerous top ten hits, including the title track "Born to Die", "Blue Jeans", and todays song"Summertime Sadness". With the release of her third EP, Paradise, Del Rey spawned her second top ten album in the United States, debuting at number 10 on the Billboard 200 with 67,000 copies sold in its first week.
I'll be upstate for the weekend so both Sundays and Mondays song will be floaters and going out early. Cheryl
Del Rey's music has been noted for its cinematic sound and its references to various aspects of pop culture, particularly that of the 1950s and 1960s Americana. The singer has described herself as a "self-styled gangsta Nancy Sinatra". Musically, she draws influence from what she deems to be the masters of each genre, including Elvis Presley, Amy Winehouse, Janis Joplin, Nirvana, Eminem, Bruce Springsteen, and Britney Spears,as well as from poetry and film noir.
Lana Del Rey's featured song today Summertime Sadness is a new track included on Lana del Rey's debut album "Born to Die".
photo credit: Thomas Hawk via photopin cc
Rate this Mystery Lyrics
Summary
Lana Del Rey – Summertime Sadness was presented by Cheryl on August 31st 2014.
Please rate the music, not the presentation. No registration needed, just a simple click on the number of stars you wish to give. Also feel free to comment on the song by using the comment function below.
Hits: 6