Hello. Our mystery song is one of my all time favorites. It's by a British Rock band, who formed in 1977.
She tortures taxi drivers just for fun, She like to read their lips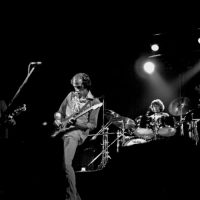 It includes two brothers (one on lead vocals and lead guitar, the other on rythm guitar and backing vocals) a bass guitarist and drummer/percussionist. I consider the lead singer/guitarist, with his own brand of fingerstyle, to be one of the greats on guitar – apparently, I'm not alone in that opinion – he was ranked 27th on Rolling Stone magazines 100 greatest guitarists of all time. With the dawning of music videos, they definitely got their MTV, but their money was not for nothing. Their music is good old rootsy rock and roll. Sadly, the band broke up in 1995, but the front man has continued to compose and make (possibly some of his best) music. I'll be including some bonus tunes along with the song in question, because there is too much good stuff not to.
photo credit: Heinrich Klaffs via photopin cc
Hits: 0