The Mystery Artist (born February 10, 1937, is an American singer, and musician who is notable for jazz, Pop, R&B, and folk music.
I felt all flushed with fever, Embarassed by the crowd, I felt he found my letters, And read each one out loud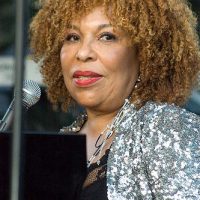 She is best known for her classic #1 singles "The First Time Ever I Saw Your Face", (The Mystery Song), and "Feel Like Makin' Love"; and for "Where Is the Love" and "The Closer I Get to You", two of her many duets with the late Donny Hathaway.
She was the first to win the Grammy Award for Record of the Year two consecutive times. "The First Time Ever I Saw Your Face" won at the 1973 Grammys and the Mystery Song won at the 1974 Grammys. She remains the only solo artist to have accomplished this feat and only U2, who did it in 2001 and 2002 with "Beautiful Day" and "Walk On", has done it since.
Roberta Flack – Killing Me Softly With His Song was presented by Hil on 28th October 2014
Home pic: By Roland Godefroy (Own work (photo personnelle)) [GFDL, CC-BY-SA-3.0 or CC-BY-2.5], via Wikimedia Commons
photo credit: ronwired via photopin cc
Hits: 1