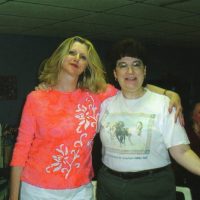 The roomie parties come to mind when I think back about my favorite chatroom memories. I remember coming to my first HUGYFEST in 2003. TIM picked me up at the Allentown airport and we got lost on the way to HUGY's. We finally made it with a few detours. Then the next year (2004) I flew into Philadelphia and Tim was there with MICHELLE (GLIMMERTWINS) and TRISH from Florida. Put TIM and MICHELLE and a map together, combined with the 4 of us talking non-stop and you get a very lost party of four!!! LOL. We gave TIM a hard time (PERK) but all in all it was a fun time.
What can I say about HUGYFEST? It is such an awesome event. I just wish all the roomies could get a chance to attend one. I got hooked my first HUGYFEST and plan on going every year forever!! Meeting all the roomies and getting to know them better is like a dream come true. I have made so many great friendships from being in the Oldies Room. Very close friends now with several.
In 2004 I got the chance to go to Long Beach, California to my first ROCNBBQ. At the LAX Airport I met up with MARGYBEAR and MICHELLE my roommates for the week. I knew the week was gonna be special when the Valet outside shouted "Oh my goodness, I am in heaven now because Charlie's Angel's have arrived!!" We did have a great time that week. DARLENE (REVOLVER) showed us all the sights of California. Just an awesome time at ROC's meeting all the West Coast roomies.
What an unbelievable trip it was!!! I got to hang out with RICK (RICKLAMESA) who is now a very close friend of mine.
So now we fast forward to 2006 and I am counting the days till HUGYFEST and then to party on at ROCSBBQ later in the year. I still enjoy coming into the Oldies Room and seeing all my friends……….getting my huggs and WTG's. It always makes my day!!!!!!!
(((((((((HUGGS))))))xoxo
Hits: 2