"Every decade or so, a band comes onto the scene that takes your breath away – Kotadama is that kind of band. Evan and Chris have approached their career with an extremely high level of musicianship, dedication and intelligence. In addition to songs that are expertly crafted, they have achieved mainstream commercial appeal and keep their musical integrity intact, while touching on important social issues, which is quite a rare combination"
David Kerschenbaum (producer Duran Duran, Bryan Adams & Cat Stevens)
October 12th 2012 saw the UK and European release of, the New South Wales based Australian band, Kotadama's new single containing the tracks 'Dichotomy' and 'Yesterday' taken from their current album of the same name.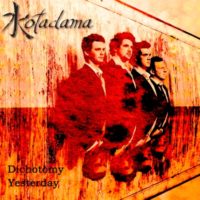 Australian brothers, Chris and Evan Brown formed Kotadama (Japanese for "Spirit of words") in 2007. The band was born through the founder's ambitions and passion for music and soon became an outlet for their creativity which leaked from every song. Their presentation and talent in music crafted this boldly inventive group and their eleven track debut album; "Dichotomy", turned heads making them fresh new faces to the pop genre. The four piece band is already well known for their sweeping, high-gloss songs that epitomizes their youth. Their uplifting and melodic tunes and arrangements have already turned heads in the music business and media.
The video for Dichotomy, an eye opener to global economic issues was shot in India, has already been shown extensively on that continent. The inspirational lyrics remind us that in a world where 1% of the population controls half the global wealth many are destitute, starving and poverty stricken. The upbeat lyrics and melody of 'Yesterday' reminds us not to live our lives in the past and not too ask the question "What if?"
Recognition has not come easily for the band but due to their hard work, enthusiasm and commitment to their music they finally succeeded. The video for their first single "See You Tonight" was aired on CBS, NBC, Fox and other American TV networks. They later received invitations to perform at the Barcelona Acció Musical Festival in Spain after winning first place in the International Festival4Stars songwriting competition. They have already recently toured Japan, India, New Zealand & Australia as well as playing a few selective dates in Europe. Their most recent gig was at the Hunter Sports Stadium NSW where they played to an audience of 25,000.
Hits: 1