Today's artists are widely considered one of the most successful, innovative and influential rock groups in history. They are one of the best-selling music artists in the history of audio recording; various sources estimate the group's record sales at 200 to 300 million units worldwide.
[dropcap]W[/dropcap]ith 111.5 million IIAA-certified units, they are the second-best selling band in the United States. Each of their nine studio albums placed on the Billboard Top 10 and six reached the number-one spot. Rolling Stone magazine described them as "the heaviest band of all time", "the biggest band of the '70s", and "unquestionably one of [pullquote-right]Led Zeppelin were arguably the biggest band of the '70s[/pullquote-right]the most enduring bands in rock history". They were inducted into the Rock and Roll Hall of Fame in 1995; the museum's biography of the band states that they were "as influential in that decade [the 1970s] as the Beatles were in the prior one".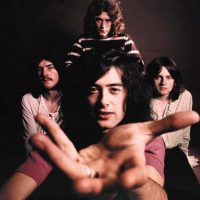 Throughout their career, they have collected many honours and awards. They were inducted into the Rock and Roll Hall of Fame in 1995, and the UK Music Hall of Fame in 2006. Among the band's awards are an American Music Award in 2005, and the Polar Music Prize in 2006. They were the recipient of a Grammy Lifetime Achievement Award in 2005, and four of their recordings have been inducted into the Grammy Hall of Fame. They have been awarded five Diamond albums, as well as fourteen Multi-Platinum, four Platinum and one Gold album in the United States, while in the UK they have five Multi-Platinum, six Platinum, one Gold and four Silver albums. In addition to listing five of their albums among "The 500 Greatest Albums of All Time", Rolling Stone named them the 14th-greatest artist of all time in 2004.
In January 2014, they were honored a Grammy in the "Rock album" category for the band's live album at the Grammy Awards 2014.
We can't believe we didn't find today's song selection on our "previously used" list, and we can't think of a better "bachelor party" song.

[ratings]


The Mystery Lyrics was:
You've been coolin', baby, I've been droolin'
Led Zeppelin – Whole Lotta Love was presented by Diana in Mystery Lyrics on March 14th 2014
Hits: 1