Nick Moss (born 1969, Chicago, Illinois, United States is an American Chicago and electric blues musician. He has released nine albums to date, all on his own Blue Bella Records label. He has played alongside or with Buddy Scott, Jimmy Dawkins, Jimmy Rogers and The Legendary Blues Band; as well as more latterly fronting his own group, Nick Moss and the Flip Tops. The music journalist Bill Dahl, stated Moss possesses "mastery of the classic Chicago sound."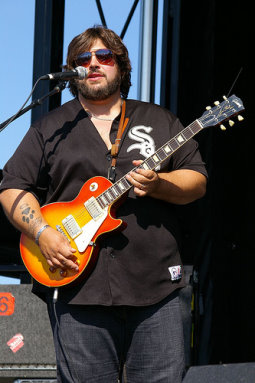 Moss originally learned to play the bass guitar, and joined Buddy Scott's backing band in his late teens. He played there for two years before moving on to join up with Jimmy Dawkins.By 1993, he had joined The Legendary Blues Band, and played bass on their final album, Money Talks. The band's frontman, Willie "Big Eyes" Smith, suggested Moss should switch to lead guitar and he spent over two years there before they split up.
Moss moved on to play as Jimmy Rogers' band guitarist for another three years, before going solo. His debut album First Offence (re-released in 2003) was billed as by Nick Moss and the Flip Tops, and included a guest appearance from the harmonica playing Lynwood Slim. His next two offerings, Got a New Plan (2001) and Count Your Blessings (2003) were both nominated for a W. C. Handy Award, as were the follow-ups Sadie Mae (2005) and Live at Chan's (2006).
Nick Moss and the Flip Tops have recorded two live albums at Chan's, a Rhode Island club. The latter included the harp work of Gerry Hundt. Moss and the Flip Tops played at Memphis in May, and the Ottawa Blues Festival in 2008. The same year Moss produced Magic Slim's album, Midnight Blues. Moss has since dropped the "Flip Tops" from his band name, and now calls his group The Nick Moss Band.
Moss's ninth album, Here I Am, was released on November 22, 2011. It was nominated for a Blues Music Award in 2013 in the 'Rock Blues Album' category.
Moss' 10th album, "Time Ain't Free", was released in early 2014.
Presented by Cheryl on November 2nd 2014
source: Wikipedia
photo credit: ActiveSteve via photopin cc
Hits: 0