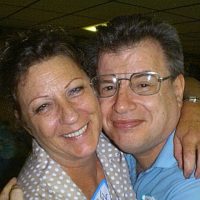 I started coming In the room In July of 2000. A friend had told me about AOL chatrooms. I live in New York City and my favorite music is Doo-Wop, 50s 60s and 70s.
I have attended 4 HUGYFESTS and they were all fabulous. I also met many roomies at Beatlefest in Jersey. I never used to see who was in the room before entering but I do now.
My favorite times and memories In the room are when all the Trivia experts are together and the Questions and answers are flying back and forth. I always looked forward to conversations about upcoming parties and the anticipation of a good time. Also the conversations in the weeks that followed those events. I have made many friends in the room over the last 5 years. It was here that I met the love of my life, TRISH. We can make this room better by concentrating on the music, hopefully the reason we all came here to begin with.
Hits: 2