Feb. 1998 is when it all started for me in the old trivia room. Then in Dec. of 1998 I changed my screen name to RED and the rest is history. I now live on the gulf coast of Florida being a former resident of NE Pennsylvania.
My name is Linette and I am married to TORCH (Bruce), have 3 wonderful children. 2 amazing grandchildren and I have 2 sisters.I love music of the 50s and 60s and of course Doo-Wop.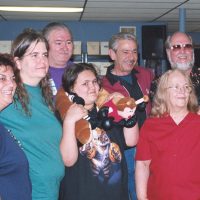 I attended the 1st 5 HUGYFESTS plus I have traveled to Beatlefest and the Rock and Roll Hall Of Fame and to MADPOETS. Very memorable fun times.
I used to come in every night after dinner and when I wasn't working I would be in the room in the day time also. Every free moment was spent in the Room. Sadly, I rarely go in the room I loved so well. There are so many
wonderful memories from the past. I loved laughing to KACEY's snert gun and her piano playing. RVB calling AOL. MSSTANGS witty poems and come-backs, SIXTYS hump days and I had a dog once, all of us singing together, typing out the oohs and ahhhs and all the lyrics to all the oldies and doo-wop songs.
ECHO's one-liners always made me laugh so much. AIDYS funny comments and one-liners too especially about her own cooking, and how she used to rush around the house to get things done before hubby came home. Honestly, just seeing my friends in that room each and every day was priceless. I have made lifelong friendships with quite a few people. I'm so fortunate. Like I always said, Thank God and AOL.
Hits: 6