The Mystery Artist(born September 18, 1933 in Camas, Washington, United States) is an American popular music singer.He had a brief run of mainstream popularity in the late 1950s with a string of crossover singles that ranked highly on the Billboard Pop Singles, Hot Country and Western Sides and Hot Rhythm and Blues Sides charts; in the 1960s, he had more modest successes with adult contemporary music.
Wish we didn't have to be afraid to show the world that we're in love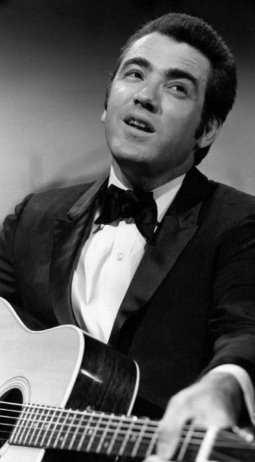 He is not related to the earlier country singer of the same name, who coincidentally died the same year the Mystery Artist was born.
He was taught music by his mother, learned to play the piano and guitar, and joined a band called "The Melodies" started by violinist Phil Clark, while he served in the United States Air Force in Korea.
Like a number of other entertainers of the era, he was one of the contestants on Arthur Godfrey's talent show on the radio. When Hugo Peretti and Luigi Creatore left RCA Victor for Morris Levy's company, Roulette Records, they became aware of his talent and signed him up.
In the summer of 1957, he recorded a song called "Honeycomb", which had been recorded by Bob Merrill and Georgie Shaw three years earlier. The tune was his biggest hit, staying on the top of the charts for four weeks. The following year, he had a number of other hits that reached the Top 10 on the charts:
In 1958, he appeared on NBC's The Gisele MacKenzie Show. Also in 1958 he sang the opening theme song of the movie The Long, Hot Summer, starring Paul Newman, Joanne Woodward and Orson Welles. He then had his own short-lived televised variety show on NBC.
Jimmie Rodgers – Secretly was presented by Hil on October 21st 2014
Photo Credit: By NBC Television (eBay itemphoto frontphoto back) [Public domain], via Wikimedia Commons
Hits: 0