This is a tribute to a jazz legend who died while Mystery Lyrics was on hiatus.
The Mystery Artist , September 2, 1928 – June 18, 2014), Norwalk, Connecticut, United States) was an American jazz pianist and composer.
He is known for his distinctive humorous and funky playing style and for his pioneering compositional contributions to hard bop. He was influenced by a wide range of musical styles, notably gospel music, African music, and Latin American music and sometimes ventured into the soul jazz genre.
His father was from the island of Maio in Cape Verde. His mother was born in New Canaan, Connecticut, and was of Irish-African descent.
He began his career as a tenor saxophonist but later switched to piano. His tenor saxophone playing was highly influenced by Lester Young, and his piano style by Bud Powell.His big break came in 1950 backing saxophonist Stan Getz at The Sundown Club in Hartford, Connecticut. Getz liked our artist's band and took them on the road, eventually recording three of our artist's compositions. It was with G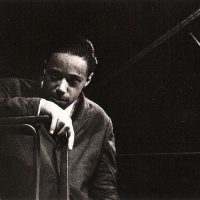 etz that he made his recording debut.
He moved to New York City in 1951, where he worked at the jazz club Birdland on Monday nights, when different musicians would come together and informally jam. During that year he met the executives of the label Blue Note while working as a sideman. He eventually signed with them, remaining there until 1980. In New York, he formed the Jazz Messengers, a cooperatively-run group with Art Blakey.
In 1952 and 1953 he recorded three sessions with his own trio, featuring Blakey on drums and Gene Ramey, Curly Russell and Percy Heath on bass. The drummer-pianist team lasted for four years; during this time, he and Blakey recorded at Birdland (A Night at Birdland Vol. 1) with Russell, Clifford Brown and Lou Donaldson; at the Bohemia with Kenny Dorham and Hank Mobley; and also in the recording studio. He was also a member of the Miles Davis All Stars, recording the Walkin' album in 1954.
Your Mystery Lyric was added to one of his compositions and I have a vocal version by Chris Connor. It's the original instrumental I am looking for but the lyrics will help us get there.
"Well, he's tall and good looking. And he always knows just what to say. Yes, he's tall and good looking. And he always knows just what to say"
photo credit: koiart71 via photopin cc
Rate this Mystery Lyrics
Summary
Horace Silver – Senor Blues was presented by Hil on August 6th 2014.
Please rate the music, not the presentation. No registration needed, just a simple click on the number of stars you wish to give.
Hits: 0