Sad news starts our music round-up today. Joe B. Mauldin jr, bassist with the Crickets, has passed away at the age of 74. According to the musicians manager Burt Stein, he died on saturday after a battle with cancer.
Our dad was not only the bass player of The Crickets, he was the bass player of our family. He kept our family's steady rhythm by 'locking-in' with our mother just as a good bass player locks in with his drummer. It's that foundation that comforts us all. Daughter Jennifer Mauldin.
Joe is a member of the Rock and Roll Hall of Fame, The Musicians Hall of Fame and the West Texas Hall of Fame.
Also passed away this week: Soprano Anita Darian, who died on 1st February at the ripe old age of 87, apparently after complications arising from surgery.
Convicted pedophile Gary Glitter has been up to it again and is back behind bars after been convicted of having sex with a thirteen year old girl back in the 1970s. He was also convicted of attempted rape and 4 cases of indecent assault. his sentence will be announced at the end of February (as far as I'm concerned, it can't be long enough)
Meanwhile veteran British ex-heartthrob David Essex is putting his hormones to much better use. At an age where most of us are enoying being Grandparents (David is 67) he has become a father again. It's a case of "he kept that one quiet" as his son Sonny (making it child number 5) was in fact reportedly born last year. Still better than what Gary Glitter is up to though…
And Sophie B. Hawkins is pregnant (as I lay me down) at the age of 50. Talking to Us Weekly, she has confirmed that she is expecting a second child. She dismisses any concerns about her health, saying she is in great shape. Well then …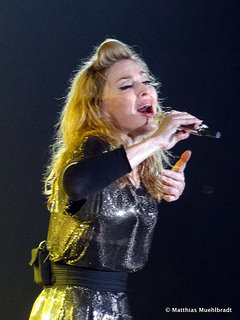 Madonna says that the leaking of her songs from her album helped make it a better record. she is apparently convinced that she let criticism guided her to make a better product. Obviously a business moedl for the future then, let other artists be leaked too.
During an interview with Ryan Seacrest on sunday, she said "I was like, 'Ooh, I better change this'. It actually helped guide me a little bit."
Jimi Hendrix biopic "Jimi: All Is By My Side" has come in for criticism by Jimi's ex-girlfriend Kathy Etchingham, who has lashed out and is shocked at "inaccuracies" in the plot. "The whole story is a fabrication. Even the things that did happen have not been produced accurately", shes says… Oh, isn't it nice to be back in the news again?
Oh, and we had the Grammy Awards too… but are they of any interest to us? Who cares about the petty differences that Taylor Swift and Katy Perry have? As they were kept apart at the ceremony, nothing interesting became of them anyway. And do we care about Lady Gaga's gratitude for winning a Grammy when her star might appear to be waning just a little, and that she mistook Ed Sheeran for a Waiter ? I mean, how can she?
On this note…
photo credits:
Sophie B. Hawkins Sophie (license)
Madonna Madonna Berlin 2012-06-30 via photopin(license)
Hits: 4