There are songs that are just so obscure that it would be impossible to feature them in regular Mystery Lyric postings.
A good example would be The (German) Jessy Martens Band. Jessy has been billed as the New German Blues Queen. She has been compared to Amy Winehouse, Tina Turner and even Janis Joplin (yawn!!)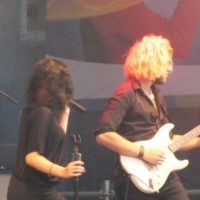 Always having my eyes on the music scene in Hamburg, Jessy is one of those musicians I've come across now and again, but haven't taken too much notice of apart from making mental notes to have a closer listen when I got time. But the time usually never comes around of course except by coincidence.
And it was pure coincidence that I saw her live at the Pinneberg Summer Jazz. Summer Jazz is an annual open air event taking place in the main shopping street of the town in which I live. It presents newcomers and established acts on eight stages and goes on over four days. Anyway, strolling through town on a friday evening during the Festival this year, which was a few weeks ago, I arrived just in time for her concert on the main stage.
The act, two hours of power blues, blew me away to be honest, as it obviously also did the other thousand or so jazz lovers, most of which were old enough to be her parents or even grandparents, leading to standing ovations.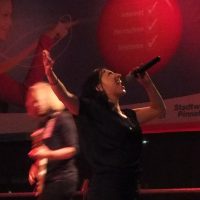 Although she is only 24, she has already released four albums, but it is her current CD "Brand New Ride" that has caused a stir, being, as it is, the first album containing own material. Unfortunately the people in charge have apparently forgotten that they were producing a blues publication, and have polished out a lot of the rough edges that go with the style of music she is playing (German producers really tend to try and make music compatible for the masses instead of bringing out the best in an artist). However there is much promise in her music, and if she can manage to transfer the raw energy and power of her live performances onto the silver disc, then she could be in for a big future.
Todays featured track is my personal highlight on "Brand New Ride" – Fool 4 U. Its certainly not the most bluesey on the album, but is a wonderful rock ballad really worth listening to.
Enjoy – I look forward to your comments below 🙂
Press photo: © Frank Dudek courtesy of Jan Fischer Music
Hits: 3