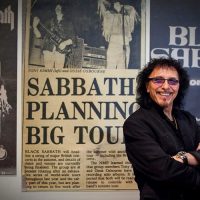 Black Sabbath star Tony Iommi has written a new tune for hit Tv drama Csi: Crime Scene Investigation.
The guitarist has revealed he composed the piece for one of his favourite shows while winding down from his band's recent world tour.
He says, "I'm getting back in the studio, having tried to make myself rest after the tours. I'm writing, mostly just putting ideas down rather than complete songs. I like to create all sorts of moods with my music and then decide later how they might be used. One specific piece, though, is for the Csi Tv series that will be aired in the U.S. on November 2nd.
Read more here:: Tony Iommi Composes New Track For Csi
Photo: By Guy Evans (Flickr: HomeofMetal_Fox_0659) [CC-BY-2.0], via Wikimedia Commons
Hits: 2