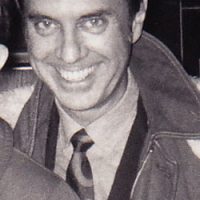 Mystery Artist 1: (according to Wikipedia)
Born September 26, 1918, he is an American television host, radio personality and voice actor known for his long career as a television horror host broadcasting horror movies in Philadelphia and New York City in the 1950s and 1960s.
He was a close colleague of Philadelphia broadcaster Dick Clark, and sometimes filled in for Clark on road touring shows of Clark's American Bandstand in the 1960s. Clark reportedly gave this artist his nickname of "The Cool Ghoul."
Tonights song was recorded in 1958.
Your Mystery Lyric was:
How are things in Transylvania, for dessert there was batwing confetti
John Zacherle – Dinner With Drac was presented on October 30th 2014
Photo credit: Seduisant at English Wikipedia [CC-BY-3.0], via Wikimedia Commons
Hits: 3