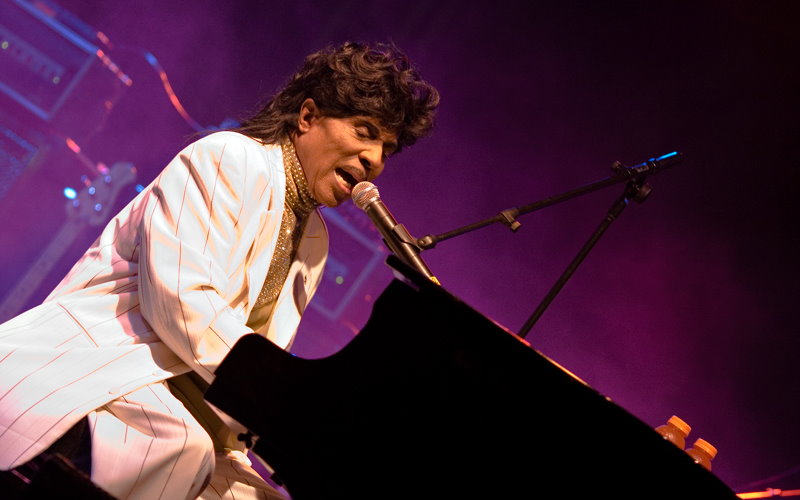 A few months back, I wrote of the history pertaining to the tune "Keep A-Knockin'," with the most popular version being, of course, Little Richard's 1957 smash hit on Specialty (the song was first recorded circa February 1928 by vocalist James "Boodle-It" Wiggins and pianist Bob Call as "Keep A-Knockin' An You Can't Get In [Paramount 12662]). With this mailing, we're going to take a look at a largely-forgotten yet often-covered Little Richard classic.
No, it's not "Tutti Frutti" or "Long Tall Sally". It's not "Lucille," "Rip It Up" or "Good Golly Miss Molly" and it's not "Ready Teddy," "Slippin' And Slidin'," "Jenny Jenny" or "The Girl Can't Help It". It's "Directly From My Heart To You". Not familiar with it, you say? Well, after reading this essay, you will be!
Little Richard first recorded the song in Houston, Texas with the Johnny Otis Orchestra on October 5, 1953, for Peacock Records (prior to Peacock, he was an RCA Victor artist, a stint which lasted from 1951-1952. After Peacock, Richard signed with Specialty, a company he would stay with for nine years, from 1955 to 1964, and the company for which he would record all of the hit records mentioned above and then some. He would re-record "Directly From My Heart To You" for Specialty on September 14, 1955.) The Peacock version is a nice blues piece perfect for late night listening – nothing like the material Little Richard would cut a few years later.
I was inspired to feature "Directly From My Heart To You" after recently listening to the stunning version by Frank Zappa And The Mothers Of Invention, included on the album 'Weasels Ripped My Flesh,' released in 1970 (the album's liner notes state that the album was released in February of that year while the book 'Frank Zappa – A Visual Documentary' claims it was released in August.) Regardless, FZ and the Mothers' version features Don "Sugar Cane" Harris on electric violin and vocal along with Lowell George (later of Little Feat) on rhythm guitar. I took a bunch of Frank Zappa discs with me to work the other day and listened to FZ from 8am to 5pm. The last disc ended at 4:20 and to fill the remaining forty minutes, I played "Directly From My Heart To You" eight times in a row.
"Directly From My Heart To You" was also recorded by blues guitarist/vocalist Fenton Robinson on his 1974 Alligator release 'Somebody Loan Me A Dime' (the title track was written and originally recorded by Robinson in 1967 for the tiny Palos label. Two years later, in 1969, it was covered by Boz Scaggs featuring Duane Allman on guitar.)
Having said all of this, recommended listening is Little Richard's Peacock version of "Directly From My Heart To You" (the 1953 original); Little Richard's more upbeat 1955 remake for Specialty; the incredible 1970 version by Frank Zappa and the Mothers Of Invention; and the 1974 version by Fenton Robinson, which clearly demonstrates Robinson's clear, fluid, almost jazzy lead lines and passionate, soulful singing. Enjoy!
http://youtu.be/SweWEtelOnY
photo credit: loudtiger via photopin cc
Hits: 7