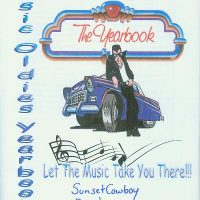 Edna's "Music Oldies Yearbook" was published probably around 2003 and was handed out at Hugyfest the same year. I had been to Hugyfest in 2002, but unfortunately I have never been able to make it back to Reading for financial reasons – as they say , or sing "Money's too tight to mention".
Peter (Effelt) brought me the yearbook back to Germany, which was a great consolation, especially the 4 whole pages of "autographs" from participating Oldies.
After getting permission from Edna, I would like to add at least some of the Yearbook to these pages, but until then, I will leave you with the 4 pages of Oldie autographs, with the question … which signatures do you recognise?
Hits: 5