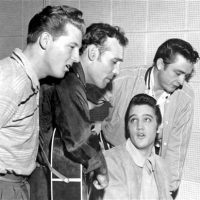 I believe I did an article on "Matchbox" a few years ago but decided that, since there are significantly more people on my list than there was then, I'd do another article on the subject, only this time going a little bit further in detail than I did the first time around. Also, it's fitting because I'm writing this essay on what would have been Carl Perkins' 74th birthday.
The origins of the song "Matchbox" go all the way back to 1924, when "The Mother Of The Blues," Gertrude "Ma" Rainey, recorded a tune called "Lost Wandering Blues" circa March of that year. She was accompanied on the recording by Miles and Milas Pruitt – The Pruitt Twins – with Miles on banjo and Milas on guitar. All of Ma Rainey's prior recordings featured jazz band accompaniment. In "Lost Wandering Blues," Rainey sings "I'm sittin' here wonderin' will a matchbox hold my clothes…."
Jump ahead to March 14, 1927, Atlanta, Georgia. The great Texas blues singer and guitarist Blind Lemon Jefferson records what would be his only release on the Okeh label ("Black Snake Moan"/"Match Box Blues" on Okeh 8455) even though he recorded a total of eight titles for them. He records "Match Box Blues" two more times for Paramount Records, his "regular" label. Apparently, Paramount threatened Okeh with litigation since it was Paramount who had Lemon under contract, but "Match Box Blues" becomes a huge seller – thus the reason Lemon cut the song two more times for Paramount. On all three versions of "Match Box Blues," Jefferson sings, "(I'm) sittin' here wonderin' would a matchbox hold my clothes…. I ain't got so many matches but I got so far to go." Like I've mentioned in previous mailings, white musicians have always been inspired by their black counterparts, with many of them learning firsthand from black blues and string band musicians. Hank Williams and Jimmie Rodgers are two prime examples. White hillbilly musician Larry Hensley cut his version of Jefferson's Okeh recording of "Match Box Blues" on January 25, 1934, for Vocalion, doing an amazing job at copying Jefferson's unique guitar sound and style.
Another artist who learned his craft directly from a black musician (in this case, "Uncle" John Westbrook) is Carl Perkins. Between December 4, 1956, and January 1957, Carl Perkins recorded "Matchbox," suggested to Carl by his father Buck during a break in a recording session:
"Carl, you oughta do that old song, 'Matchbox Blues.' You know – 'I'm settin' here wonderin', would a matchbox hold my clothes.'"
"What else does it say, Daddy?," was Carl's response.
"I ain't got no matches but I got a long way to go,"
Buck replied.
"What else?"
"That's about all I know,"
his father answered.
"That don't make no sense,"
said Carl, having heard his father sing the lyric around the house for years.
Jerry Lee Lewis, handling the piano duties on the session, began playing a boogie beat. Carl came up with the guitar riff – one that gives me chills every time I hear it – and began improvising lyrics. A new song centered around a lyric that was about as old as dirt, even by 1950s standards, was born.
The Beatles were inspired to record "Matchbox" after learning the song on the LP 'Dance Album Of Carl Perkins,' released on Sun Records in 1958, after Perkins left the label to sign with Columbia. The Beatles' version was released in the U.K. in June 1964 on their 5th EP 'Long Tall Sally'. Here in the U.S., it was released on both the LP 'Something New,' their third Capitol album, and as a single, with "Slow Down," a track first released in 1958 by American rocker and Carl Perkins peer Larry Williams, on the flip. A version of "Matchbox" was recorded in 1962 at the Star Club in Hamburg, Germany with John Lennon handling the vocal duties.
In fact, Carl Perkins was on a U.K. tour and was present in the studio when The Beatles cut their version of "Matchbox," though he does not appear on the recording. The Beatles recorded five takes of the tune on the afternoon of June 1, 1964, before recording sixteen takes of a Lennon-McCartney original, "I'll Be Back," between 7 p.m. and 10 p.m. Afterwards, Carl and the Fab Four jammed on a variety of '50s rock 'n' roll numbers until 3 a.m. It should be said, too, that outside of their own compositions, the Beatles recorded more songs by Carl Perkins than by anyone else.
In 1996, the CD 'Go Cat Go' was released as Carl's last album, featuring duets with Willie Nelson, John Fogerty, Tom Petty & The Heartbreakers, George Harrison, Ringo Starr, Paul McCartney, Paul Simon, Bono, and Johnny Cash as well as two versions of "Blue Suede Shoes" performed by both Jimi Hendrix and John Lennon. The CD features "Matchbox" as performed by Carl Perkins and Willie Nelson. So……
To simplify things considerably, a rundown of what's recommended listening is as follows: "Lost Wandering Blues" by Ma Rainey from 1924; the Okeh version of "Match Box Blues" by Blind Lemon Jefferson from 1927; "Match Box Blues" by hillbilly singer/guitarist Larry Hensley from 1934; Carl Perkins' "Matchbox" from 1957; "Matchbox" by The Beatles from 1964; and, finally, "Matchbox" by Carl Perkins and Willie Nelson from 1996 (Nelson only plays guitar on the track.)
photo credit: Bradford Timeline via photopin cc
Copyright 2006 JacoFan Music. All Rights Reserved.
Hits: 5